By Knud Esmann
Published in JyllandsPosten may 11th 08
In pursuit of game- and life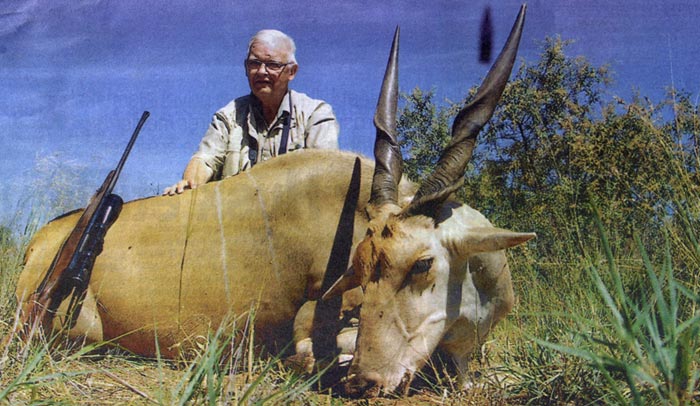 Knud Esmann tells the story of the painter, anarchist and hunter Per Dahl, who defied weakness and surgery to take off on his last safari trip in Africa. A simultaneously triumphant and nostalgic journey, amongst lions, hippopotami, poisonous snakes and other African wildlife, this was his farewell to hunting.
---
In good life
His appetite for life unabated despite illness and operations, the painter, anarchist and hunter Per Dahl set out on one more African adventure.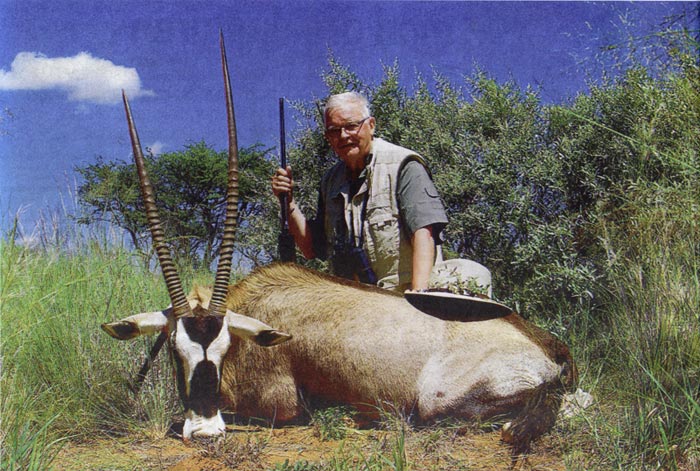 Per Dahl had two errands in Africa. The 77-year-old abstract painter of unrivalled natural and vibrant works had promised his daughter, Christina, a zebra skin. At the same time, he wanted to round off his career as a stalker of big game with one more trip into the unknown.
The plan was perhaps dicey, but he set about it with equal amounts of roguishness and obstinacy. This unconventional artist was not to be stopped. As recently as 16 January of this year, he had woken up one afternoon at Århus Hospital, Tage Hansens Gade, following surgery for cancer.
On March 30, Dahl was at Frankfurt airport ready to board a Chinese plane bound for the Namibian capital, Windhoek. Equipped with a magnum rifle, shorts, white knees and high spirits, the cancer patient was about to spend three weeks hunting zebra, antelope and wart hog.
The reactionary from Femmøller had been a keen fisher and hunter for seven decades. For him, this was not a hobby, more a way of life. The reason for existence itself. Dahl is accustomed to expressing himself on canvas. He had no explanation as to what drove him to the mosquito infested swamps, to the African steppe or savannah. To his wife Janet, he said that travel was simply something he had to do. She did not protest. Nonetheless she was thinking of the two-and-a-half hour operation which culminated in 45 stitches from chest to navel.
James Joyce's concept: 'to live, to make mistakes, to fail, to create life from life' is Dahl's unspoken motto. In his youth over half a century ago, he had one kidney removed. He now has diabetes. But he had never been an ascetic - so he declines any kind of sympathy.
His overriding philosophy is a craving for adventure: if life is uneventful, then art will be too. For him, life and painting are the same. He paints with passion. The bay tree blossoms early, but withers faster than a rose. Art is a lonely profession.
Many of the abstract paintings in Århus Concert Hall's Easter exhibition last year were inspired by Dahl's earlier African expeditions. One of many motifs is his characteristic use of strong colours, which are reminiscent of the Etosha national park in Namibia. The park, a salt lake that is either dry or flooded depending on the time of year, was given special status in 1907. "In Africa a thing is true at first light and a lie by noon" - Ernest Hemingway
The heat of the landscape stuns the senses - and amidst fantastic abstract forms, Per Dahl places a microscopic, precise representation of the oryx antelope and its resilience, running several hundred metres even after being fatally wounded. Dahl's stylistic breakthrough is reflected in this imagined antelope.
Everyone who sees the painting must make up his own interpretation. Dahl does not have one to relay - he thinks that informed interpretation or perceived symbolism are the inventions of academia. "Just the tricks of the art world trade, all right for people who have never known or spoken to a painter".
Before Dahl's major operation, keyhole surgery removed one and a half intestinal polyps. They had been growing together.
Previously, he had been on form. There were signs of old age, of course - once, he needed to be helped over the wet, heavy earth around Krannestrup - but then dispatched two roebucks with two shots.
It was a close shave. Sudden haemorrhages, which he thought were due to haemorrhoids but were in fact warning signs, made him go to a specialist.
The consultant, Anders Tøttrup said it was a typical example of the importance of finding and treating a cancer in good time. "Per's condition was discovered at a very early stage, so that the operation was most effective. He confronted pain and mental pressure with calm and courage".
The growths were apparently benign, but post operative tests were done. Tøttrup removed one polyp and part of the other, but was loath to take everything away in the first operation. A few days later, the news came that the polyp was cancerous.
Per Dahl rang Janet: :
"It's cancer"
And put the phone down.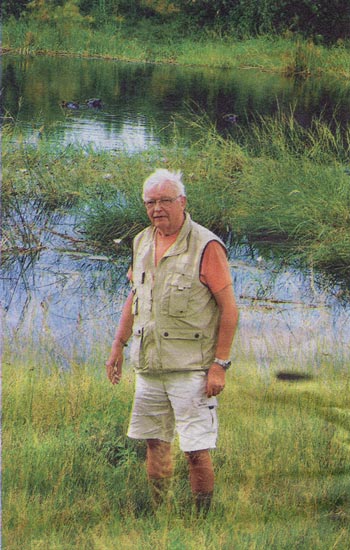 THE OLD MAN AND THE HIPPOPOTAMUS.
Today, Dahl is glad of the operation and expert advice he was given by the consultant Anders Tøttrup, and immensely thankful to the nursing staff who provided professional aftercare.
The operation which healed him was performed by a visiting German professor, Werner Hohenberger, from the university hospital in Erlangen. Four gastro-intestinal surgeons from the region were also present, including Tøttrup.
This time, the operation was more invasive (Janet says "he was carved up like a pig"). Had the cancer spread? Were there secondary tumours, so-called metastasis? Or had the cancer invaded blood vessels or lymph glands?
Either transverse or vertical cuts are used in abdominal surgery. Hohenberger, one of the top surgeons in the field, prefers the vertical method, though now, transverse cut is the order of the day. Hohenberger has given lectures in Århus for gastro-intestinal surgeons from all over Denmark. These visits are part of a scheme to reinforce cancer treatment in Denmark, driven by doctors, patients and politicians.
Anders Tøttrup stresses that technique can be a decisive factor in cancer operations. The Danish specialists who attended Per Dahl's operation were fortunate. Whether they will follow Hohenberger's techniques or not, these men and women strive to improve their skills so that cancer treatment in Denmark can equal or surpass that of other countries.
Both before and after the operation, the patient in question showed a stoicism which he did not feel. Dahl remembers:
"By far the worst part of the whole affair was the two weeks I had to wait for a result. I had no idea whether the cancer had spread. I just wanted to know, no matter if the result was good or bad".
A few days after the news that it was most likely he was past danger, Per and Janet departed for a holiday on the Gran Canaries islands, where they have an apartment. The tickets had been bought long before.
The couple returned after a month. Three weeks later, Dahl packed his luggage once more. He was going hunting, despite there being no more room for trophies, either in his large house or the studio in Femmøller. He followed medical advice as and when he thought fit.
On his recovery, Anders Tøttrup had told Per the same as he would have said to a 25- year-old patient after the same kind of operation: 'Take it easy for six weeks and gradually get back to your normal activities'.
The consultant did not realise that his patient was off to Africa, gradually getting back to hunting game without sun tan oil or malaria tablets. He sees this vigour as life-affirming and is impressed rather than indignant.
Per Dahl went to a hunting lodge 170 kilometres north east of the airport, where he was greeted like an old friend by Irene and Gundolf Schlosser. He has visited them several times since 1990. The Schlossers own a private farm with over 35,000 hectares of open land and African bush, with 80 kilometres between them and the neighbours. The couple and their three grown-up daughters are wonderful hosts, with a pioneer attitude and warmth of spirit. Whenever it's time to leave, there's always a burning wish to return one day. After just a week or two, it's as if hosts and guests have always known each other. Gundolf is a beacon for his profession, conducting highly ethical hunting and taking great pleasure in nature.
Namibia, once German South West Africa, is an el Dorado for hunters. The hunting farms, which also rear cattle, offer excellent accommodation, swimming pools, white or black hunters, photo safari trips, board and lodging with wine, laundry services, cars, and serious organised hunting expeditions. These bush farms reach from north to south in an almost unbroken line. There is something for all tastes and pockets.
In the far north is Namibia's Caprivi Strip, which points like a finger between Botswana and Zambia, and touches Zimbabwe. This is a wetland amidst desert; a habitat for several types of snakes, grazing antelopes and buffalo. It is a remote place, completely unspoilt by the mass tourism which has afflicted well-known spots in Kenya and Tanzania.
The national parks, wild animal reserves, jungle, marsh, cultivated areas and town in Caprivi are challenging and exciting places. Crocodiles and tiger fish live in the waterways and lakes. Leopards, hyenas, cheetahs and wild dogs, a threatened species, are numerous here, whereas there are only a few lions. Hunters and the small numbers of tourists are welcome to wander here, but it is at their own risk, as herds of buffalo and elephant roam between Angola, Botswana and Zambia.
The Caprivi strip by the Okavango river, home to the Owambu group of Bantu people, has few roads and teems with dangerous animals. This is where Per Dahl was headed - a man who had just had 45 centimetres, nearly a third of his intestine, removed.
On an earlier visit to Namibia, Dahl had met Ian and Heather Rooken-Smith, a couple who had moved to Namibia from Kenya. They had lost their 33-year-old daughter to leukaemia. At their request, Per Dahl executed a portrait of her, using some photographs.
Following her husband's death, Heather now lives in South Africa. She invited Dahl to visit her in Caprivi as a thank-you for the painting. This is where her son Keith, who is 55 and has many years' experience as a professional hunter, was setting up lodges for new clients - those who dare to risk becoming prey themselves. Big game is reared on the remote reserves here, just as described and experienced by the free and fearless Ernest Hemingway, Beryl Markham, Galbraith Cole, Bror Blixen, Denys Finch Hatton, Berkeley Cole, and Karen Blixen.
Before swopping the hunting ground in Steinhausen for Caprivi by means of an old plane, Dahl had claimed a 1,000 kilo Giant Eland - as far as prizes go, this warrants a gold medal. He had also shot warthog, hartebeest and mountain zebra - whose tanned hide would soon grace his daughter's home.
Without knowing anything about Caprivi, Per Dahl imagined that he would savour life on the lodge, eating selected game dishes and enjoying a sun downer whilst talking to other guests round the camp fire. He began to know more as he tramped over marshes with 'elephant feet', arms and legs equally mosquito-bitten, wearing shorts. Hippopotami and hungry crocodiles lurked, half hidden in the water or in dense autumnal vegetation.
One night he woke up with a hippopotamus outside his tent. Toilets and the nearest tent were at least 100 metres away. He could not call for help. The hippopotamus sighed and rested his enormous weight - some two tons - on the guy ropes. It was bad enough that Dahl was forced to use a bottle to relieve himself. Worse came when lions started fighting outside at dawn, breaking a table.
On the phone to Mols the next day, he was asked how things were going. He replied firmly:
"I'm surviving".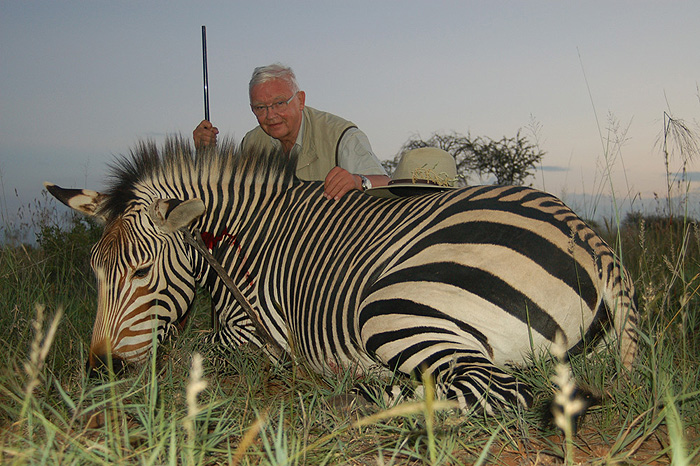 BULLS EYE
Caprivi, which is almost entirely surrounded by rivers, is the real African thing - romantic and terrible. Keith-Rooken-Smith, who manages "The Caprivi Promotional Project", calls this territory Namibia's paradise. There is no shortage of snakes.
One of the helpers at the camp showed Per a giant cobra, which had been killed with a stick. It's not quite the same when you see this snake on television. In Steinhausen and to Gundolf's amusement, Per had witnessed Irene chasing a highly poisonous mamba, torch held high and a small-bore rifle at the ready. She was furious that the mamba was stealing eggs from her geese. Explorers such as David Livingstone and Thomas Baines, as well as earlier missionaries, also visited Caprivi. The legendary ivory hunter, Frederick Courteney Selous of the early 1900s had found some of the several hundred elephants that he shot here. The area's history has been coloured by warriors, warlords, colonial powers, soldiers and freedom movements.
Based in Caprivi River Lodge in Mamili National Park, Keith Rooken-Smith is one of the most experienced and devil-may-care guides you could expect to find. He and his helpers sent Dahl off on an adventure, with a warning to watch out for hippopotami in particular. These animals have a set of teeth which at close range could be mistaken for tusks; they kill more people than any other animal in Africa. This can be hard to comprehend when you see this giant of a creature taking a mud bath or floating with a lazy yawn amongst his fellow animals. But if Dahl had gone out of the tent that night to relieve himself, he would not have lived to tell the story. The camp thought that it must have been a female hippo who had fallen in love with the Dane's fair skin.
For years, Caprivi was part of the British protectorate, Bechuanaland, but this changed when another colonial power, Germany, needed access to the Zambezi river. England administered parts of East Africa, and an agreement was reached between the two countries in Berlin at the end of the 19th century. This created the Caprivi strip. However the Germans did not receive direct access to the Indian Ocean by river, as they had hoped, as this was blocked by the Victoria waterfalls. Over 100 years later the motorway, built by the South African military, is now an important trading route. Namibia was annexed by South Africa in 1915 and stayed under South African administration until independence. The road that was originally flanked by military units has created settlements and resulted in rapid expansion of the larger towns.
For Per Dahl, the safari was a bitter-sweet farewell to his favourite sport. His last quarry at Steinhausen, and possibly the last of his life won him one of the most sought-after of beasts, the kudu antelope and a bronze medal.
He also loved to hunt in Denmark, but that is over. No longer will father, son and dog wait by a river and happily, return home some hours later with a mallard in the bag. Dahl thinks today's hunting is amusement for the well-off. For him, the practice of hunting in Denmark, shooting slow pheasants and ducks that have been reared for the hunt is a perverted idea of sport. He thinks of this as a similar industry to the yearly production of 25 million pigs. Like supermarkets, hunting estates cater for what people want and will pay for. The new rich are spending time with masters of the hunt, nobility, royals and other members of the Danish elite.
Danish reserves have become poorer since Per was a boy. Only roe deer and woodcocks remain a regular target for him. He will not miss much.
The artist and hunter Per Dahl feels at one with wild animals and with another old man, the fisher in Hemingway's masterpiece, "The Old Man and the Sea". The book, written as a novella in Hemingway's distinctive, powerful style and published in 1952, is the story of the old Cuban fisherman who makes a triumph out of defeat. He it was who said: "I am glad we do not have to try to kill the stars. Imagine if each day a man must try to kill the moon, he thought. The moon runs away. But imagine if a man each day should have to try to kill the sun? We were born lucky, he thought".
For those who accompanied Per Dahl hunting at Steinhausen, it was evident that his last trip was mind over matter. Who would not be a boy again?
In those parts of the world the moon appears gigantic and the stars, undimmed by artificial light, are infinite.
A pair of hunting dogs, trembling in anticipation, were his companions. The sight of antelopes moving between the trees at dawn tells you what matters in this world and what is not important. This is the sort of lesson it can take a whole life to learn.
Anders Tøttrup is impressed by his patient, although he would hardly have recommended an African safari as the best way to recoup after major surgery for cancer. When the Århus surgeon was asked whether the long scar Werner Hohenberger had given Dahl was really necessary, he replied
"Such a man is god - you don't criticise him".